Saint Columban Parish
506 First Street S, Yelm, WA 98597
For more information on our prayer groups, faith formation, parish ministries and apostolates, please contact the Parish Office. (360) 458-3031
Mass Times
Sunday Mass: 10:30 am
Saturday (Sunday anticipatory Liturgy): 5:00 pm
Weekday Mass: Tuesday - Friday (except First Fridays) 9:00 am
Confession
Saturday: 3:30-4:30 pm
By appointment: Call 360-458-3031 x6 to schedule
First Friday Devotions & Adoration
9:00AM at St. Peter's in Tenino
6:30PM at St. Columban
Anointing of the Sick
Call 360-458-3031 x6.
Parish Office Hours
Hours 9am-2pm Mon-Thu
Fri. by appointment.
506 First St. S / Yelm, WA 98597
Phone: 360-458-3031 x5 (Spanish x8) Email: parishoffice@saintcolumbanyelm.org
Sunday Mass 8:00am (Confessions 30 Minutes before)
First Friday Mass 9:00am
Mass Attendance
In accordance with guidance from the Archdiocese, in-person Mass attendance is open to all with the following protocols in place:
*Masks are required unless you have a medical exemption
*If you wish to remain distanced from others you may do so at your own discretion.
The 10:30am Mass on Sunday is Livestreamed at https://www.facebook.com/saintcolumbanyelm
We spread the Roman Catholic faith to the communities of McKenna, Nisqually, Rainier, Roy, Tenino, and Yelm in southeast Thurston and southwest Pierce counties.
Our community has grown since its origins at the former St. Margaret Mary Church in McKenna, and current church is named for the Irish-born 6th century missionary to Europe Saint Columbanus.
To register as a parishioner please fill out a downloadable registration form and turn-in to the parish office. Forms may also be emailed, however we may need to contact you to verify information.
Society of Saint Vincent de Paul
For assistance please leave your name, phone number, and details of your need to 360-458-1904. Please be patient as our St. Vincent volunteers check voicemails and assist others. 
Winter Clothes Closet
Open Tuesdays and Thursdays 6:00pm - 8:00pm from December - March in the old church building. Call Parish office or Saint Vincent de Paul to verify hours.
Consider a gift to help support the many ministries and the upkeep of our church communities.
For more information about other ways to donate, click here.
Called the Serve Christ campaign, click here.
Please contribute to the 2021 Annual Catholic Appeal. Your support is essential to the mission of the Church in Western Washington. Thanks to your generosity, our church is here in times of need providing comfort and hope. Learn more here.
All contributions received over our goal will come directly back to St. Columban and St. Peter as a rebate. This year's rebate projects will be announced.
Please be sure to specify "St. Columban - Yelm" or "St. Peter - Tenino" as your parish.
Three ways to grow your faith this year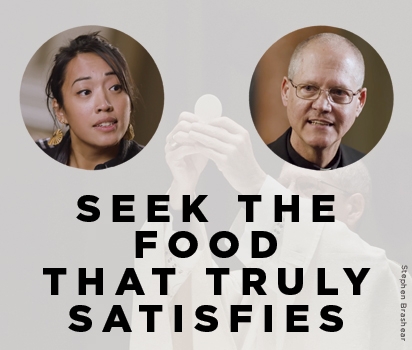 Join Archbishop Etienne as he shares insights and speaks with local young adults about real issues we face today and how Christ, present in the Eucharist, can truly nourish us.
Year of the Family
Celebrate the Year of the Family, established by Pope Francis on the Feast of St. Joseph, to live the joy, beauty and love of family life through Christ.
All men of the parish are invited to join Saint Columban Council 17152 of the Knights of Columbus. Meetings are held once a month. Our council's big annual events include the Coats of Kids Car Show held every August, which raises money for winter coats which are distributed in November.
St. Columban Prayer Garden
Blessed on November 23, 2020, the prayer garden reflects the collaborative efforts and donations from parishioners.  In conjunction with rebates from the Annual Catholic Appeal, a statue of St. Columban was purchased and installed.  This was later followed by a the installation of a paved pathway lined with donated bricks, forever memorializing both our current and former clergy, parishioners, and their families.
Work on the garden continues with plans to add Outdoor Stations of the Cross, a Privacy Fence, and Benches.  If you would like to purchase a memorial brick or donate a bench, please click on the link to download the order form.