Four Seasonal Marian Hymns
Typically sung after Communion has been distributed, known as the Post Communion Reflection(PCR).
Presentation of the Lord - Easter Vigil:
Ave Regina Cealorum
Listen to Ave Regina Cealorum
Director's Corner
During this time of isolation due to the Coronavirus I am posting videos from You Tube of hymns appropriate to the season to help keep you and your family connected with the liturgy, especially during this Easter season.
Hymn of the Week: Hail The Day That Sees Him Rise
Written by Charles Wesley in 1739, this hymn praises the Ascension of our Lord into heaven 40 days after His resurrection.  This feast day is May 21st but will be celebrated on the following Sunday, May 24th.
I chose this song primarily because it speaks very true to the Ascension and what we have to look forward to when at the end of our time here on Earth.  The 5th verse in particular speaks of this with the phrase "lift our hearts that we may rise, one with You beyond the skies".  This reminds us that this world is not our true home and that life in heaven with Christ is worth all the trials of faith.  The struggle to stay faithful is real no doubt and remembering such words of encouragement like the ones found in this hymn can help keep our eyes focused on the ultimate goal, heaven!
Welcome to the St. Columban Choir!
Music is an essential element of the Mass, and our choir is dedicated to providing music which supports the liturgy and creates an ideal environment for prayer.  Here you will find information about practice and rehearsal times and recordings that you can use to practice with or to familiarize yourself with the hymns that we sing.  There are also helpful tools such as the Basic Latin Pronunciation Guide along with information and announcements about special choir events.
If you are interested in joining the choir please feel free to contact me by either phone or email or simply stop by the organ to introduce yourself after Mass.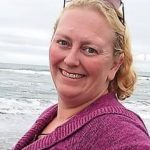 Jennifer Langham
PA for Liturgy & Music
music@sc-sp.org
(360) 458-3031 ext.5
Practice & Rehearsal Times
Choir Practice Every Tuesday at 6pm in the Church, unless otherwise noted below:
In accordance with the letter from Archbishop Etienne regarding necessary preacautions to help prevent the spread of the Coronavirus, all Masses and events including choir practices/rehearsals at the church have been cancelled until further notice.
New Choir Facebook Page
Check out our new Facebook page exclusively for the choir where I will post videos each week which will help you enhance and build those choral skills which are so vital to what we do as choristers.
Below is the link to the page so you can join from your own Facebook page.
https://www.facebook.com/groups/225199692012505/
Rehearsal Prior to Mass 1 Hour before each Mass in the Small Hall (old church)
**Rehearsal prior to Mass is mandatory if you wish to sing at Mass.  Accommodations for those who serve in other ministries are available, but must be made in advance.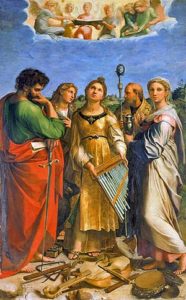 What was that Latin Song?
Here you will find current Latin hymns we are signing and their English translation.
Concordi Laetitia
Sounds of joy have put to flight all the sadness of the night.  Now a maid beyond compare hears her praises fill the air; O Virgin Mary!
Who blooms like the lily, with fruitful joy in the risen Lord, clearly seeing her living son; O Virgin Mary!
Whom heavenly choirs praise in equal harmony and we with the heavenly hosts make a new song; O Virgin Mary!
O Queen of virgins, graciously favor our prayers and after the contest of death, bring the reward of life; O Virgin Mary!
O glorious Trinity, undivided Unity, because of the merits of Mary, save us through the ages; O Virgin Mary!
Jesu Dulcis Memoria
The sweet memory of your name, O Jesus, gives true joy to the heart but far sweeter than honey is your sweet presence.
Nothing is sung more sweetly, nothing is heard more delightfully, nothing is thought of more pleasingly than the name of Jesus, the Son of God.
O Jesus, hope of penitents, how kind you are to those who ask!  How good to those who seek you!  And how much more are you to those who find you!
No tongue is able to speak it, and no word is able to express it.  Only he who has loved is able to believe what it means to love Jesus.
May you, O Jesus be our joy, who are our future reward.  May our glory be in you through all eternity.  Amen.