Songs for Distribution of Ashes

Four Seasonal Marian Hymns
Typically sung after Communion has been distributed, known as the Post Communion Reflection(PCR).
Presentation of the Lord - Easter Vigil:
Ave Regina Cealorum
Listen to Ave Regina Cealorum
Welcome to the St. Columban Choir!
Music is an essential element of the Mass, and our choir is dedicated to providing music which supports the liturgy and creates an ideal environment for prayer.  Here you will find information about practice and rehearsal times and recordings that you can use to practice with or to familiarize yourself with the hymns that we sing.  There are also helpful tools such as the Basic Latin Pronunciation Guide along with information and announcements about special choir events.
If you are interested in joining the choir please feel free to contact me by either phone or email or simply stop by the organ to introduce yourself after Mass.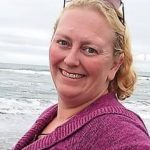 Jennifer Langham
PA for Liturgy & Music
music@sc-sp.org
(360) 458-3031 ext.5
Practice & Rehearsal Times
Choir Practice Every Tuesday at 6pm in the Church, unless otherwise noted below:
Beginning March 1, 2020: Extra Practice for Holy Week & Easter Music each Sunday of Lent from 9-9:30AM in the Small Hall (old church).
Rehearsal Prior to Mass 1 Hour before each Mass in the Small Hall (old church)
**Rehearsal prior to Mass is mandatory if you wish to sing at Mass.  Accommodations for those who serve in other ministries are available, but must be made in advance.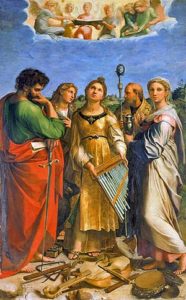 Director's Corner
What is the "Kyrie"?
The Kyrie is the Latin version of the words the priest says at the end of the Penitential Act or the "I Confess.."
Kyrie Eleison (key-ree-ay, Ay-lay-ee-sohn)
Lord Have Mercy
Christie Eleison (Kree-stay-ay, Ay-lay-ee-sohn)
Christ Have Mercy
Kyrie Eleison (key-ree-ay, Ay-lay-ee-sohn)
Lord Have Mercy
In the Roman Rite this may be chanted by the deacon, cantor or choir.
During Holy Seasons and on certain Solemnities it is proper that this is chanted in Latin rather than English as it symbolizes the gravitas of the Mass or Season.  The same is true for the propers of the Mass (the Holy, Holy, the Memorial Acclamtion, and the Lamb of God).  In Latin; the Sanctus, the Mortem Tuam, and the Agnus Dei.
Elliot, Peter J. (2005) Ceremonies of the Modern Roman Rite, Ignatius Press USA.
Elliot, Peter J. (2002) Ceremonies of the Liturgical Year, Ignatius Press USA.
What was that Latin Song?
Here you will find current Latin hymns we are signing and their English translation.
Ave Regina Cealorum
Hail, O Queen of the Heavens.  Hail, O Lday of the Angels.  Hail, the Root of Jesse, and the portal from which the world's true Light is risen.  Rejoice, O Glorious Virgin, O Fairest of all creatures.  Farewell, O Most Lovely One, pray for us to Christ, our Savior.
Jesu Rex Admirablis
Jesus, Prince ever glorious! Thou Lord of Hosts victorious!  Of radiance more than marvelous.  Master, be ruler over us!
Dwell Lord with us and grant we may behold thy light upon our way.  Scatter night's gloom, and so array Earth as heaven in a noon bright day.
Veni Creator Spiritus #444
Creator Spirit Lord of Grace, come make in us your dwelling place.  Our purest light in darkness shine, fill our hearts O Love Divine. O Spirit hear your people's cry, come down O Gift of God most high.  Descend in peace, O heavenly dove, come fount of life, come flame of love. As once on Christ the servant's head, the oil of sevenfold grace you shed.  So now anoint from love's deep springs, your chosen prophets, priests, and kings.  Of every gift, the living source, of mighty deeds, the unseen force.  The Father sends his promised one, to speak for all who serve His son. Amen.