Four Seasonal Marian Hymns
Typically sung after Communion has been distributed, known as the Post Communion Reflection(PCR).
Welcome to the St. Columban Choir!
Music is an essential element of the Mass, and our choir is dedicated to providing music which supports the liturgy and creates an ideal environment for prayer.  Here you will find information about practice and rehearsal times and recordings that you can use to practice with or to familiarize yourself with the hymns that we sing.  There are also helpful tools such as the Basic Latin Pronunciation Guide along with information and announcements about special choir events.
If you are interested in joining the choir please feel free to contact me by either phone or email or simply stop by the organ to introduce yourself after Mass.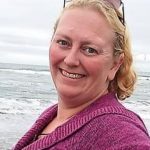 Jennifer Langham
PA for Liturgy & Music
music@sc-sp.org
(360) 458-3031 ext.5
Practice & Rehearsal Times
Choir Practice Every Tuesday at 6pm in the Small Hall (old church), unless otherwise noted below:
NO Choir Practice Tuesday October 15th!
Rehearsal Prior to Mass 1 Hour before each Mass in the Hall
**Rehearsal prior to Mass is mandatory if you wish to sing at Mass.  Accommodations for those who serve in other ministries are available but must be made in advance.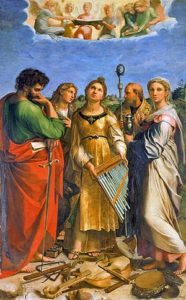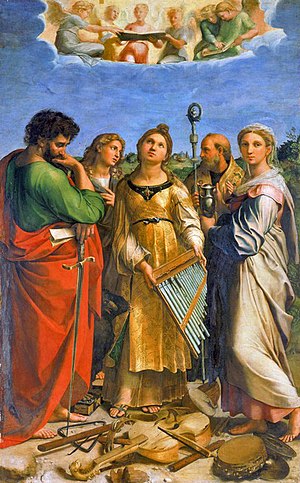 Director's Corner
What is the Communion Antiphon?  Where can I find it?

The Communion Antiphon can be found at the end of the readings in your Lumen Christi Missal.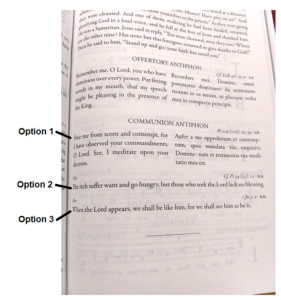 You will notice that this Sunday the 28th Sunday in Ordinary Time Year C, there are three options to choose from. This is often the case with the Communion Antiphons. However, there also are several optional antiphons in the back of the missal.  Whenever one of these is chosen, the page number where they can be found will always be posted on the hymn board.
The Communion Antiphon is sung just like the Responsorial after the first reading.  The only difference is that the verses are not listed for you in the missal for the Communion Antiphon.  This is because you (the congregation) are processing to the front to receive the Eucharist and so the only words you need are the refrain.
Should you wish to review the verses that we sing for your own personal reflection, they can be found on the Illuminare Publications website https://illuminarepublications.com in the Score Library.
Upcoming Events
Advent Youth Choir
This is a chance for all youth of the parish 3rd Grade-High School to sing for the 5PM Christmas Eve Mass.  Sign-ups begin in October with practices starting in November.
Community Christmas Concert
This is free Yelm Community event hosted at the Jesus Christ of Latter Day Saints church (off of Clark St.) here in Yelm.  Choirs from every church in the Yelm area participate in this annual event.  Come and support your St. Columban Choir on Sunday December 15th at 7PM.
What Was That Latin Song?
Here you will find current Latin hymns we are signing and their English translation.
Salve Regina #485
Hail, Holy Queen, mother of mercy, our life, our sweetness and our hope.  To thee do we cry poor banished children of eve, to thee do we send our up our sighs, mourning, and weeping in this valley of tears. Turn then most gracious advocate thine eyes of mercy towards us and after this our exile, show unto us the fruit of thy womb Jesus.  O Gentle , O Loving, O Beloved, O Virgin Mary.
Totus Tuus
Yours completely, O Maria.  Ever Virgin, Mother of God. Queen of Heaven, fairest flower, pray, pray for us Maria.
Veni Creator Spiritus #444
Creator Spirit Lord of Grace, come make in us your dwelling place.  Our purest light in darkness shine, fill our hearts O Love Divine. O Spirit hear your people's cry, come down O Gift of God most high.  Descend in peace, O heavenly dove, come fount of life, come flame of love. As once on Christ the servant's head, the oil of sevenfold grace you shed.  So now anoint from love's deep springs, your chosen prophets, priests, and kings.  Of every gift, the living source, of mighty deeds, the unseen force.  The Father sends his promised one, to speak for all who serve His son. Amen.