Holy Mass
Sunday:
8:00 AM (At both St. Columban & St. Peter, Tenino on Easter Sunday, April 21)
10:30 AM (St. Columban)
Tuesday-Friday: 9 AM
No daily Mass April 23-26
First Tues. with Anointing of the Sick: 9 AM 
First Thurs. with Anointing of the Sick: 9 AM (St. Peter, Tenino)
Saturday: 5:00 PM Anticipatory Mass (Resumes April 27)
Recitation of the Holy Rosary begins 30 minutes before all Masses and Monday 8:30 AM
Confessions
No confessions will be heard on Good Friday or Holy Saturday
Saturday: 3:30-4:30 PM
Sunday: 7:00-7:45 AM (St. Peter, Tenino)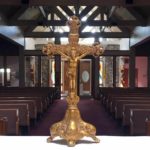 Eucharistic Adoration
First Friday: 6:30-7:30 PM (Resumes May 3)
First Sunday: 7:00-7:30 AM (St. Peter, Tenino)
Easter Triduum
Good Friday, April 19: 

Stations of the Cross -  3:00 PM (both locations)
Liturgy of the Lord's Passion - 7:00 PM
Holy Saturday, April 20:
Vigil in the Holy Night of Easter - 8:00 PM
Easter Sunday, April 21:
8:00 AM Mass (both locations)
10:30 AM Mass, followed by Easter Egg Hunt
See full HOLY WEEK SCHEDULE for details
All take place at St. Columban Church in Yelm unless otherwise noted.
Parish Ministries and Apostolates
Share your gifts with the community by becoming involved in our many volunteer opportunities.
Register as a Parishioner
Please fill out a downloadable registration form and turn-in to the parish office. If you have a child that you wish to attend our Faith Formation programs for Grades K -5 (Children's Ministry) or Grades 6-12 (Youth Ministry) please complete this form to register and turn-in to the parish office. Forms may also be emailed, however we may need to contact you to verify information.