Holy Mass
Sunday:
8:00 AM (St. Peter, Tenino)
10:30 AM
Tuesday-Friday: 9 AM
First Tues. with Anointing of the Sick: 9 AM 
First Thurs. with Anointing of the Sick: 9 AM (St. Peter, Tenino)
Saturday: 5:00 PM Anticipatory Mass
Holy Rosary begins 30 minutes before all Masses
All take place at St. Columban Church in Yelm unless otherwise noted.
Confessions
Fridays of Lent: 5:30-6:30 PM
No confessions will be heard on Good Friday or Holy Saturday
Saturday: 3:30-4:30 PM
Sunday: 7:00-7:45 AM (St. Peter, Tenino)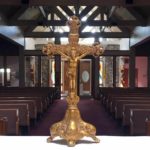 Adoration
First Friday: 6:30-7:30 PM (Resumes May 3)
Sundays: 7:00-7:30 AM (St. Peter, Tenino)
Stations of the Cross
Fridays of Lent: 6:00 PM,
followed by a Lenten Soup Suppers in the Parish Hall at 6:30 PM
Good Friday: 3:00 PM (both locations)
Easter Triduum
Holy Thursday, April 18:
Mass of the Lord's Supper - 7:00 PM
Public Adoration until 10:00 PM
Good Friday, April 19: 
Liturgy of the Lord's Passion - 7:00 PM
Holy Saturday, April 20:
Easter Vigil - 8:00 PM
Easter Sunday:
8:00 AM Mass (both locations)
10:30 AM, followed by Easter Egg Hunt
Parish Ministries and Apostolates
Share your gifts with the community by becoming involved in our many volunteer opportunities.
Register as a Parishioner
Please fill out a downloadable registration form and turn-in to the parish office. If you have a child that you wish to attend our Faith Formation programs for Grades K -5 (Children's Ministry) or Grades 6-12 (Youth Ministry) please complete this form to register and turn-in to the parish office. Forms may also be emailed, however we may need to contact you to verify information.